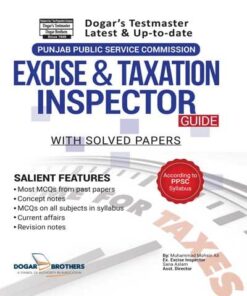 Out of stock
Competitive Exam Preparation Books
BOOKS FOR COMPETITIVE EXAMS IN PAKISTAN
The trend of competitive exams is not new in Pakistan because of the perks that they bring with them. Although these exams open a door of opportunities for students by securing a government job, these are one of the toughest exams in Pakistan.
Competitive Exams in Pakistan
There are plenty of competitive exams held by Public Service Sectors under the government of Pakistan. These exams require exceptional knowledge about a particular subject and whether it be CSS, PMS, FPSC, KPPSC, PPSC, Or BPSC, once the candidates have passed this exam, they can start their professional career under the supervision of the Government of Pakistan and can have exceptional career opportunities.
Best Competitive Exam Preparation Books
Dogar Brothers have always provided students with high-scoring books that make it easy for candidates to crack the competitive exam. It is important for aspirants to choose the right books for them to ace the competitive exam and secure jobs in various Government sectors.
The books for competitive exams must be selected by considering several parameters such as:
• Easy to grasp strong command over basic concepts
• Proper structuring of the answers
• High-quality questions for practice
• Have samples of Past papers
All these parameters are highlighted in Dogar Books, and you can ace the competitive exams by availing of the maximum knowledge from our books.
Competitive Exam Preparation Guidebooks
Students who are about to start their journey of preparation for competitive exams, always worry about where to get the best resources for preparation. Dogar Brothers are offering candidates a plethora of guidebooks that have been written according to the updated syllabus of the respective exam and have integrated countless techniques to achieve brilliance in any competitive exam in Pakistan.
To facilitate the students in structuring the answers with different dimensions and mastering important techniques to differentiate their answers from the majority of the students, Dogar Brothers have published guidebooks for competitive exams.
You can grab your books online by visiting our website.
https://dogar.com.pk/competitive-exams-books/
Competitive Exam Books for Government Jobs
Preparation for government exams is one of the most competitive challenges one can face because the demand to work in the government sector is at its peak. In such a highly competitive exam, one must follow the optimal means to succeed by choosing the right set of books from day one.
Therefore, visit Dogar Brothers' website and start preparing for your exams.