Who is Who and What Is What (Including Economic Survey 2021-22 and Budget 2022-23) Book by Dogar Brothers is available here. Place your order now. Book will be sent to you by courier cash on delivery.
Who is Who and What Is What Book by Dogar Brothers:
For:
CSS, PCS, PMS, NTS, PPSC, STATE BANK, FIA, PIA, ARMY, NAVY,
AIR FORCE, WAPDA, EXCISE & TAXATION, POLICE & ALL other Competitive Exams
Subjects:
Current Affairs
General Knowledge
Everyday Science
Arithmetic
English
Pakistan Affairs
World Information
Islamic Studies
Sports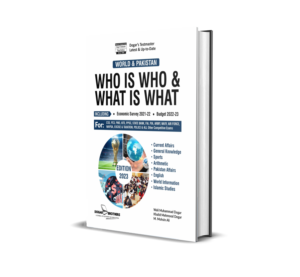 Dogar Brothers provide the best resources for your good. Just consult a Book of Dogar Brothers to get selected for your exams. Our mission is "Contributing to the success of the widest possible audience through the availability of learning resources at an affordable price".
Keep connected with dogar.com.pk, Facebook, Twitter, Pinterest, Linkedin,  Google Plus, and Tumblr accounts to get latest updates about jobs, books and admissions.