Smart Brain National MDCAT 2023  (According to Latest Syllabus Announced by PMC with Conceptual Notes and 4 Years Past Papers is available at Dogar Books. This Guide will help students prepare and revise effectively for the Medical & Dental College Admission Test. We are offering free home delivery nationwide so order yours now!
SALIENT FEATURES OF SMART BRAIN NATIONAL MDCAT 2023
According to National MDCAT 2023 Syllabus
Conceptual MCQs
Explanations of selected questions
Revision Notes
Easy, Medium & Hard Difficult level questions
Including Logical Reasoning
Past Papers
Prepare With Dogar Brothers Guidebooks, Click Here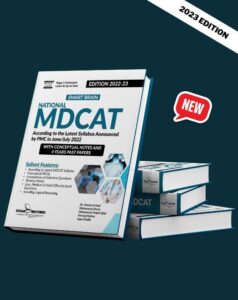 Dogar Brothers provide the best resources for your good. Just consult a Book of Dogar Brothers to get selected for your exams. Our mission is "Contributing to the success of the widest possible audience through the availability of learning resources at an affordable price".
Keep connected with dogar.com.pk, Facebook, Instagram, Twitter, Pinterest, and Linkedin accounts to get the latest updates.