Assistant Director Air Traffic Control E-Book by Dogar Brothers.  Order now and avail yourself of free home delivery nationwide.
Assistant Director Air Traffic Control E-Book by Dogar Brothers:
Salient Features:
Original Solved Sample Papers
According to the Current Syllabus
Topic Wise Notes + Questions
Features:
– A proven method to achieve great results
Score High in Test with Special Tabir Academy Technique through
 Learning Box to understand complex or difficult concepts
Top-quality MCQs from various difficulty levels (Low, Medium, and High)
Progress tracking and Time management
High Scoring Challenge: Challenge yourself until you master every concept
Learning box: Super Easy way to learn all the complex concepts
Mastery Levels: Learn to tackle easy, medium, and difficult questions. Preparation gets better by clearing each level
Time saver: 5x Faster Preparation. Score well in no time. Prepare in just 15 days
Bonus Feature: Tabir is Fun smiley
Progress Bar: 100 percent progress at the progress bar means you are ready for your exam
See for yourself.
Step 1: Tabir throws every kind of question to you (maximum exposure)
Step 2: If you get a question right, you get points (fun)
Step 3: If you get a question wrong, you learn it in the learning box (easy peasy)
Step 4: The same question repeats after every few questions to know whether you have learned or not until you do it right (reinforcement)
Step 5: Take your progress to 100 percent and you are good to go for the exam with your weak areas covered.
Bonus Step: Learn 3x faster with Tabir Academy
– Streamline your test preparation journey – by planning and execution.  Making the complex simple.
– Accelerate your Test Preparation –  Smart and Fast-paced preparation using a Targeted Learning approach which not only helps students cover the area where they are lagging but also saves time and energy.
– Boost confidence level – Tabir has a level-wise system. With every level, your confidence is boosted.
– Prepare yourself to deal with any kind of question in the test – Challenge-based approach and testing-retesting mechanisms prepare you for any question being asked.
– Prepare yourself to face the exam – Content according to the paper pattern, hence, candidates do not panic when they see the actual test as they are used to the pattern already.
High Scoring Course for AD Air Traffic Control (CAA):
https://tabiracademy.com/course/high-scoring-course-for-ad-air-traffic-control-caa/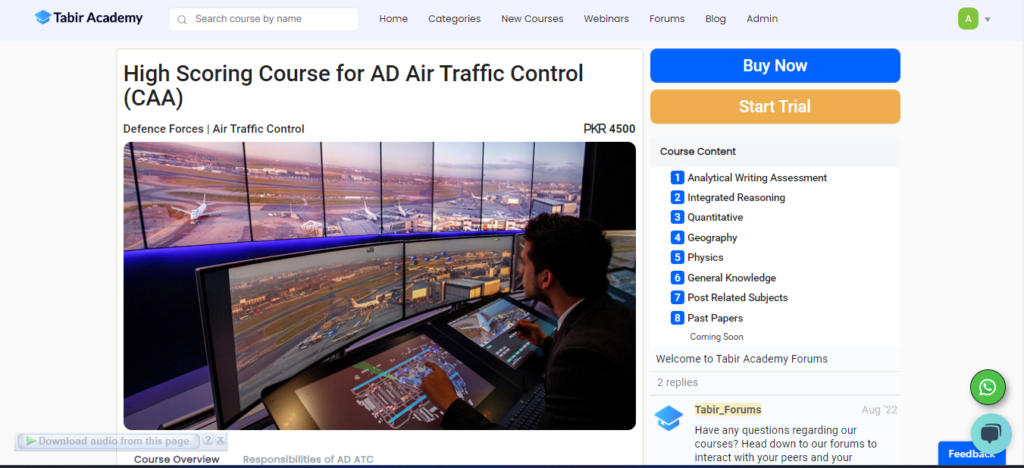 Dogar Brothers provide the best resources for your good. Just consult a Book of Dogar Brothers to get selected for your exams. Our mission is "Contributing to the success of the widest possible audience through the availability of learning resources at an affordable price".
Keep connected with dogar.com.pk, Facebook, Twitter, Pinterest, Linkedin,  Google Plus, and Tumblr accounts to get the latest updates about jobs, books, and admissions.